Trumpeter Swans at Bay Lake
Photo by Carol Malek 3/2001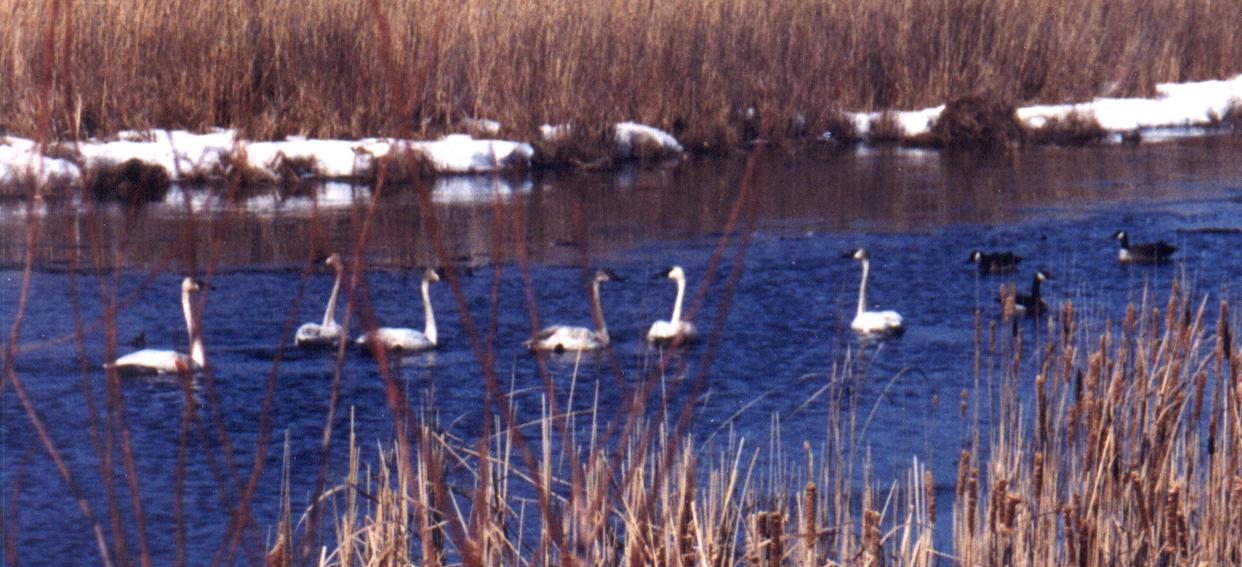 Here is a quote from the Trumpeter Swan Society:
"Thank you for the report of the swans. They are Trumpeter Swans and those with orange wing tags have been banded by the MN DNR Nongame program. Generally, males are tagged on the right wing. Females on the left. I am forwarding your sightings on to Steve Kittelson of the DNR (St. Paul) who should get back to you about the origins of these specific birds and where they were released."
More information Provided by Wayne Kohnen on March 6, 2001
The information provided by the DNR regarding the two numbered swans is as follows. Swan #284 is a 12-year-old female which was hatched at The Minnesota Zoo in 1989, and raised there until released in the spring of 1991 on Flat Lake, in the Tamarac National Wildlife Refuge in Becker County. Since its release, the bird was seen in the Fergus Falls area in the winter of 1991-92, then again in Mason City, IA in December of 1994. It has been seen nesting in the Little Hill Wildlife Management Area in Aitkin County. Swan #288 is an 11-year-old male which was hatched at the Alaska Zoo in Anchorage, AK in 1990 and raised there until it was released in the spring of 1992 at Fourtowns Lake near Grand Rapids, MN. This is the first time this bird has been sighted since it was released. The other four swans where most likely the two adults' brood from last year.